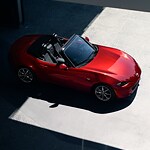 Are you looking for a vehicle that makes an impression? It's hard to beat the Mazda MX-5 Miata. With its cutting-edge design features, this popular convertible roadster is built to make a splash.
The Mazda MX-5 Miata is designed with a nod to vintage convertibles; you'll see this influence in the sporty shape and dramatically contoured wheel wells. The classic profile gets a bold, modern update, with ultra-sleek lines and smooth, flowing curves. Every element moves seamlessly into the next, for a result that's harmonious and undeniably stunning.
Even the lights on the MX-5 Miata are designed to delight. The headlights feature a unique, curving shape that evokes the sense of an eye. As you pass, the round tail lights give a fun tip of the hat to the history of the vehicle. Experience the full visual effect of the MX-5 Miata when you stop by Kempthorn Mazda for a test drive.