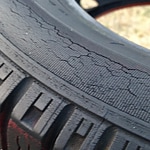 It can be difficult to determine whether or not you are in need of new tires for your vehicle. It may appear that there is plenty of tread depth left. There are other issues that you should keep an eye out for.
Vibrations coming from the wheels of your automobile can indicate that there is something going on that would require you to replace your tires. You should have this issue looked at before any damage would occur to your tire frames. Assess the depth of your tread on a regular basis. You want your vehicle to have a good grip on the road regardless of the road conditions you're driving.
Your tires should be able to hold air for long periods of time. You may see a change when the weather turns colder because of condensing. This is perfectly normal.